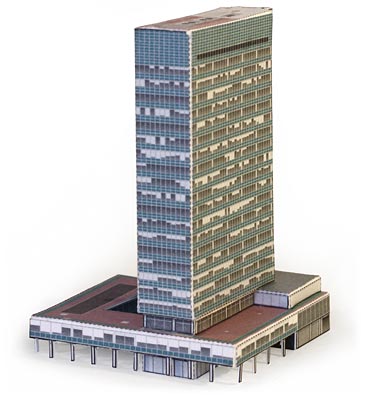 Lever House
---
Cut out the base platform of the building, carefully cutting around the thin columns. If you like, add a tiny drop of super glue behind each column to make it sturdier, as described in Tips & Techniques
Flip the base over and fit the underside of the base inside. Make sure the pieces fit together first and then glue in place.
Cut out the long wall of the building lobby and fold back and forth at right angles to match the line on the underside of the base. Note that some folds are reverse (valley) folds while others are regular (mountain) folds. See Tips & Techniques for how to score the valley folds.

Glue the long wall in place to the underside of the base.
Cut out the walls of the interior courtyard. All of the folds on this piece are reverse (valley) folds. Note that the interior walls form a rectangle, but not a square: the columns of the interior walls must be aligned as shown in the diagram to the left before fitting the piece in place.

Flip the platform base upright again.

Assemble the two boxes which form the third floor of the building. Glue them in place on top of the base, in the place indicated by shading.
Fold and assemble the tower.

Cut out and fold the tower stairwell and attach it to the rear of the tower. The windows on the stairwell should line up with the floor levels of the tower.

Finally, attach the tower to the base in the place indicated. Line up the columns visible on the tower with the columns of the windows on the third floor. The front edge of the tower is slightly cantilevered out toward the front of the building.
At last your model of Lever House is finished!